Concealment Cases - How To Order A Locking Gunbox
Concealment cases are the ultimate way to hide your weapons with style, all while keeping them close by when you need them the most. I build my concealment cases to last by using the highest quality materials. Operation of the case is rather simple. Enter the 4-8 digit pin on the remote to unlock the case. Push upwards on the bottom of the case to release the concealed weapons box. When you're finished grabbing your weapons, the box can easily be lifted back into the case where it will automatically lock. All concealment cases come outfitted with black kaizen foam and a kaizen knife for carving weapons.
The first thing to consider when purchasing a case is the size of weapons you plan on having it hold. (keep in mind weapon collections may grow over time, so going one size larger isn't a terrible idea). 
STEP 1: Pick A Concealment Case Size. (Check bottom of page for examples)
32" Base Price: $650 (Pistols Only) - This size case can hold 4-5 handguns and 3-4 magazines comfortably. Single lock mechanism.
3' Base Price: $750- (Pistols and AR Pistols only) This size case can hold 5-6 handguns and 4-5 magazines comfortably. Single lock mechanism.
4' Base Price: $1000- (AR Platform) This size case can hold two AR's and a few handguns comfortably and comes standard with a dual locking mechanism + spring assist. (This is my most commonly ordered platform for it's size and versatility.)
5' Base Price: $1200 (Long-Rifle Platform) This size can hold sniper rifles and longer range weapons with ease. Comes standard with a dual locking mechanism + spring assist.
STEP 2: Pick A Color Scheme
I have many color schemes available and can tailor the box to your personal preferences. Standard American, Darker Colonial, Blackout, Midnight, and Traditional color schemes all look good. I recommend sending me a picture of the wall or room you plan on hanging it so that I can make a recommendation. Brighter walls work well with traditional and standard color schemes, whereas colonial and blackout color schemes work well with darker rooms and furniture.
STEP 3: Pick Design Elements That You Wish To Add
Want to incorporate some design elements into your case? The sky's the limit! I can add patches, badges, logo's, words, emblems, custom graphics, and more into the case. For really custom cases, I prefer a phone call to ensure order accuracy. 719-619-7073
STEP 4: Place your order
Once you've decided on a case size & design, call or send me a message at heroichandswoodworks@gmail.com so that I can type up a custom invoice with all the design elements you're looking for. Note: a full payment must be made for me to begin work. This is due to the highly custom nature of these cases. Turnaround for cases may be as short as 2 weeks. I like to make sure the resin is fully cured before placing these in a box to survive shipping services.
STEP 5: Receive Your Case
Most cases are between $50 and $250 to ship. ALL cases are insured, so in the event that the shipping service handles the package incorrectly, I will frontline you a new case at no cost.
STEP 6: Pick a custom pin
Pins are default "0000" from the factory. Refer to the user manual to pick a custom 4-8 digit pin used to enter the case. I recommend using the shortest pin possible with numbers that you can enter without looking
STEP 7: Carve Your Weapon Slots
Open your case and lay your weapons out in the arrangement of your choice. Use the included Kaizen knife to carve closely around your weapon. You can do this by setting the depth and pulling the knife through the foam. The closer the knife is to the foam, the better as you want the foam to form a tight fit.
STEP 7: Wall Mounting
I include a solid french-cleat mounting hardware kit with each order. Installing the mounting hardware into studs is not needed, but I recommend it just for peace of mind.
STEP 8: Secure the Remote
The remote can be hidden locally nearby: in a drawer, cabinet, or my personal recommendation is to mount the remote to the side of the concealment case. Even if the remote is visible on the side of the case, you still wouldn't be able to get in without a pin. Also, mounting the remote on the side of the case allows you to use muscle memory to unlock the case in the dark.
TO PLACE AN ORDER CALL 719-619-7073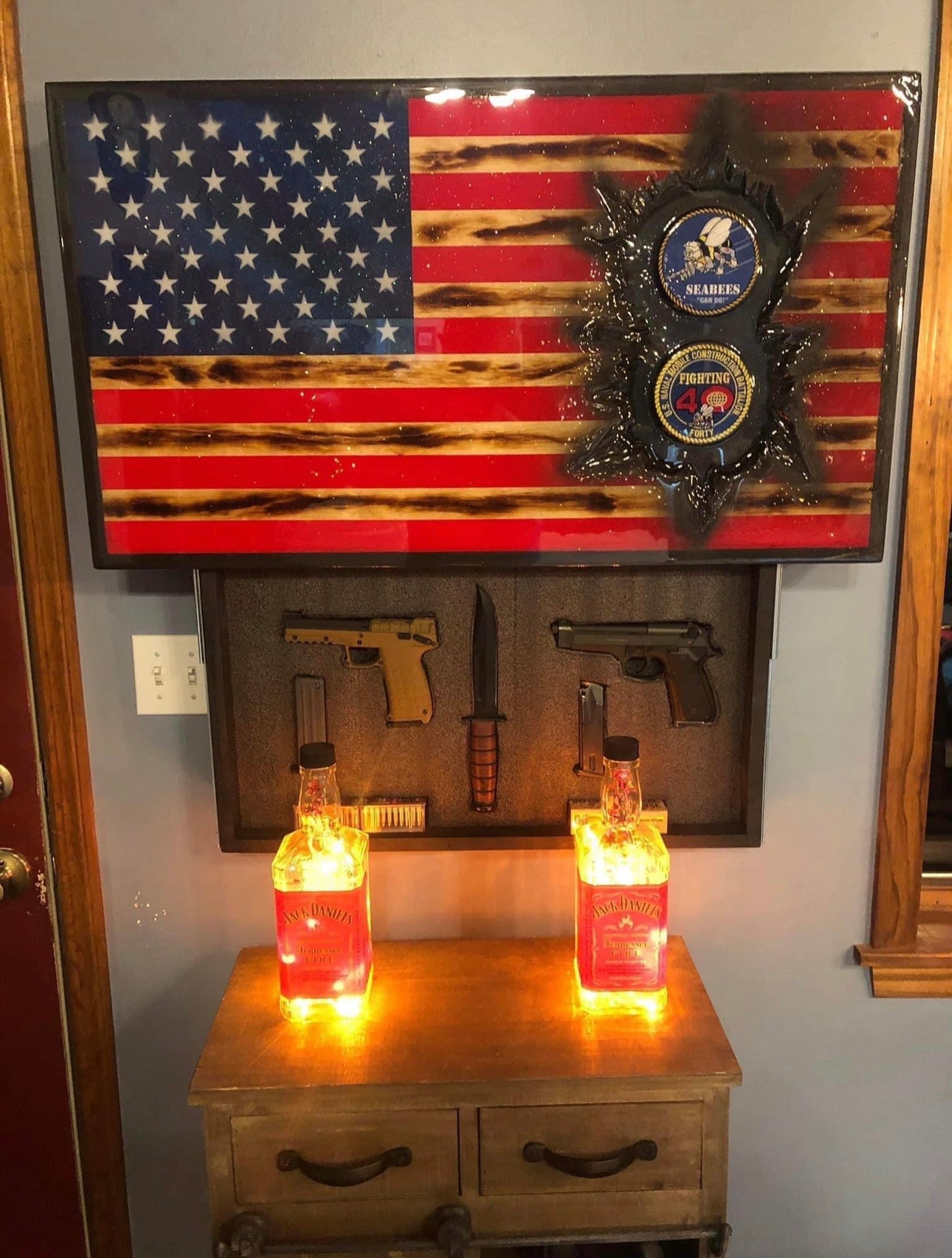 32" Pistol Case Example
This case is a 32" Standard color scheme with two added patch series off to the right.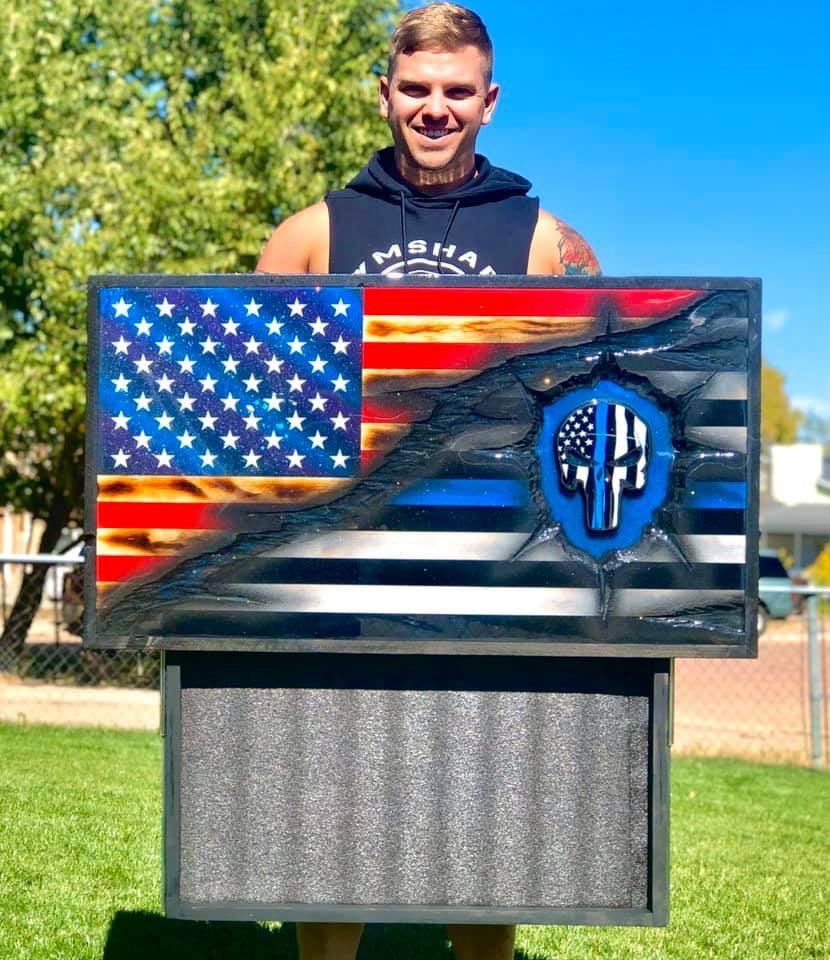 3' Pistol Case Example
This is a 36" Standard American Thin Blue Line Split with a Punisher Skull as a patch series. It's slightly larger than the 32" case and can accomodate 2+ more handguns.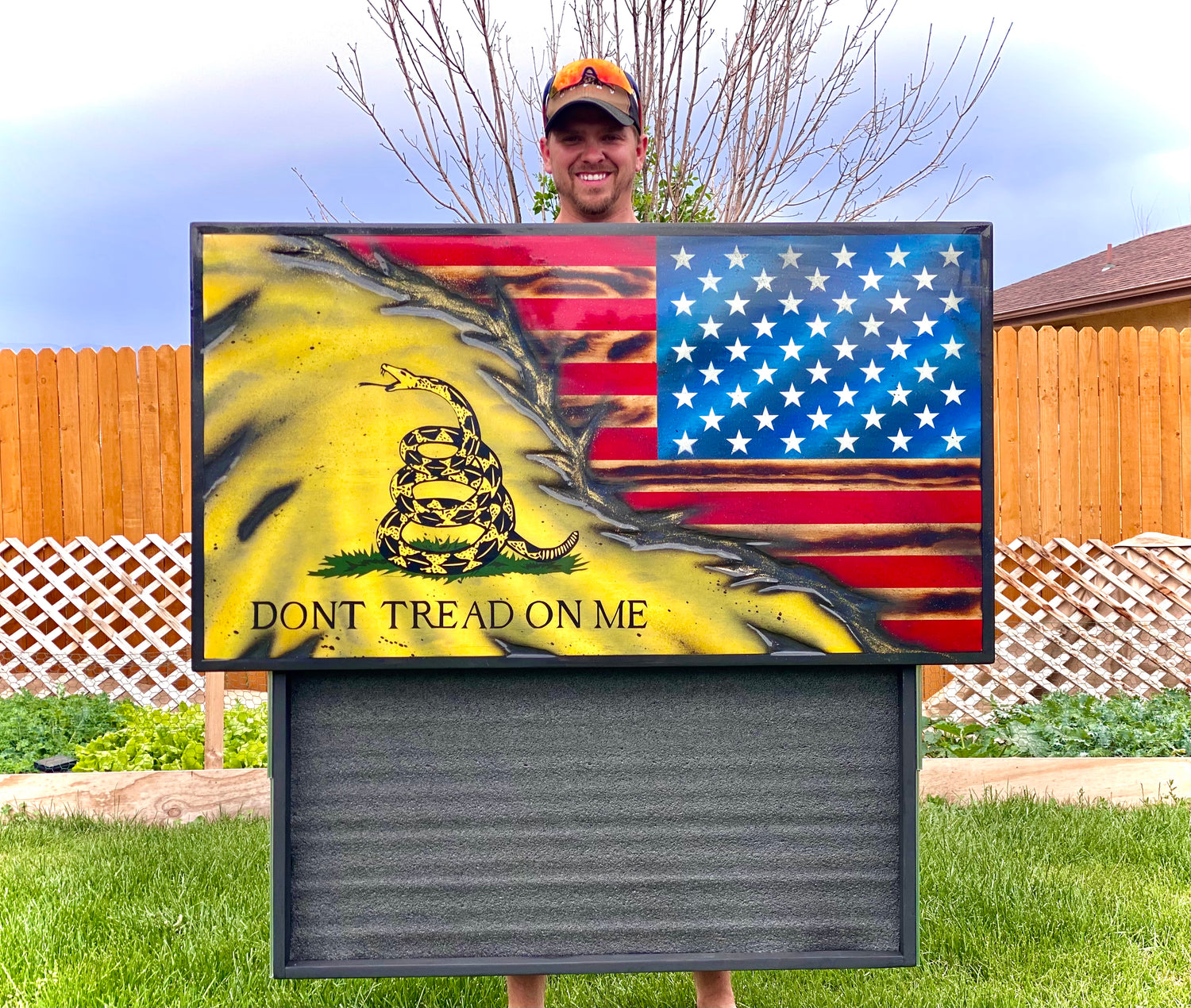 4' AR Platform Case Example
This an example of a reverse facing 4' Standard American Flag Split with the Gadsden flag on the left hand side. This platform can hold up to two AR's, a few handguns, and a couple of loaded magazines.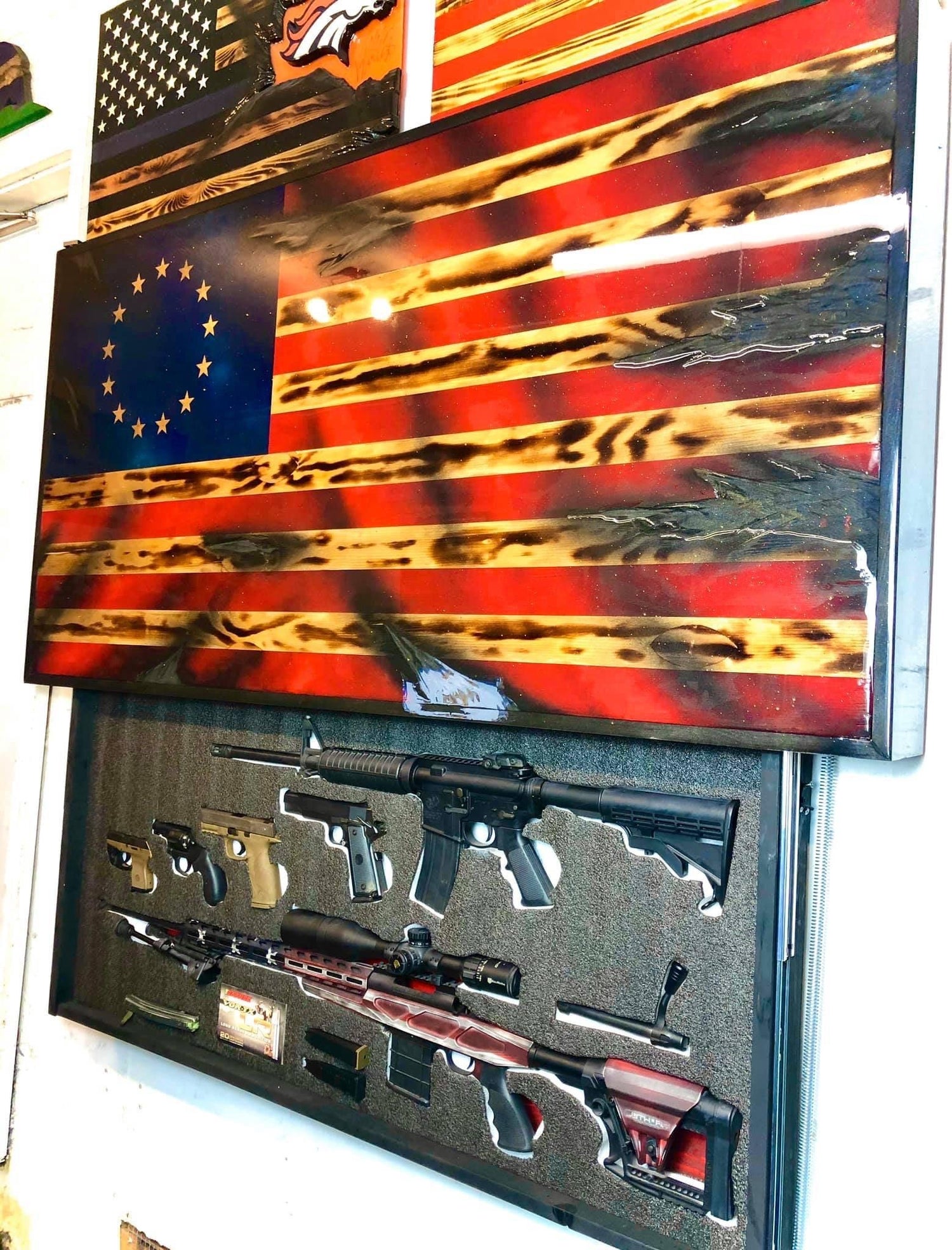 5' Long Rifle Platform Case Example
This is the largest concealment case I can build and it packs a serious punch! It can hold platforms longer than an AR, like sniper rifles and lever actions. It's meant for the true gun enthusiasts that despise heavy and bulky gun safes. It's a whopping 5' in width. The technical name is a Tattered Betsy Ross Colonial with golden stars.